Solving Past Papers is the best way to judge your preparation. For those who want to prepare for NUMS Entry Test 2023 and looking for NUMS Paper 2022 PDF, Here is the Solved NUMS MDCAT Past Paper 2022 PDF file. NUMS Registration 2023 is now started. Our Team is working on NUMS Entry Test guidance and test preparation.
Each year about 100000+ candidates appear for NUMS Entry Test and only 5-7% succeeded. One of the unfortunate reasons behind the failure of many students is their lack of seriousness when it comes to test preparation.
NUMS Paper 2022 Importance
Solving NUMS past paper 2022 is crucial for test preparation. It helps you understand the exam format, the types of questions asked in the NUMS Entry Test, and the topics that are frequently will be covered in the upcoming MDCAT Entry Test. By practicing with these past papers series of NUMS MDCAT, you can manage your time better and identify your strengths and weaknesses.
It also gives you a feel for the actual exam environment, reducing anxiety and boosting your confidence. Solving NUMS past papers allows you to become familiar with different question types and helps you consolidate your knowledge. It provides an opportunity for self-assessment for the Entry Test and helps you refine your test-taking strategies. Solving NUMS past papers are essential for effective preparation and improving your chances of success in the NUMS Entry Test 2023.
Toppers Recommended NUMS MDCAT Past Paper Book
In the NUMS MDCAT 2022, many students who aimed to study MBBS at NUMS achieved great success. What they had in common was their strong commitment to test preparation and their effective use of available resources, including the helpful NUMS Entry Test Preparation Book provided by the PAK Army Guide.
These successful students understood that achieving good results required more than just hoping for it. They knew they had to dedicate themselves, put in the effort, and stay focused on their goals. They worked hard to prepare for the challenging exam.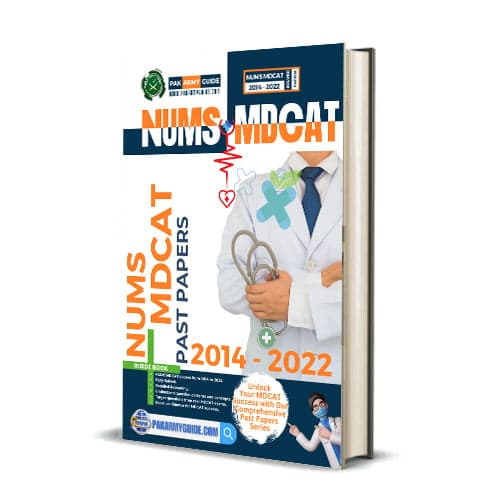 NUMS MDCAT Past Papers
Solved 2014-2022
The NUMS Entry Test Preparation Book, created by the Pakistan Army, played a key role in their journey to success. This book was specially designed to help them understand the structure of the NUMS MDCAT, the topics they needed to know, and what was expected of them in the exam. It became their trusted guide, giving them the knowledge, strategies, and practice materials they needed to do well in the test.
Download:- NUMS Syllabus 2023 PDF
Download NUMS Paper 2022 PDF
Here is the NUMS Paper 2022 PDF file. You can view the full paper and also download a PDF file to use offline. We recommend downloading and printing this paper in hard copy format. As on hard copy, you can easily solve this paper according to time.
Related:- Army Medical College Admission 2023
Related:- AMC Test Past Papers
NUMS MDCAT Paper 2022 Answer Key
The answer key of NUMS Paper 2022 is also attached to this NUMS Paper 2022 PDF and you can check your progress after solving this past paper. NUMS Paper 2022 is solved by subject experts and the full answer key is also given at the end of the NUMS MDCAT Paper 2022 PDF.
Check Now:- NUMS MBBS Merit List 2023