To become a Doctor in Pakistan Army get admission now for MBBS/BDS courses 2021. Dreams will come true to wear a khaki uniform of Pakistan Army and serve the nation as a Captain Doctor. Army Medical College Admission 2021 Expected Date  27th August 2021. Don't miss this chance to apply for online registration of the Medical Cadet Course.
Believe in yourself you can do it batter than anyone else. A candidate can only clear all stages of Army medical college admission if he knows about Army medical college admissions and selection procedure. For complete guide and AMC Test Syllabus including Sample paper read this article. As mostly AMC candidates have no knowledge about Medical colleges selection & join procedure. Do you also have no idea how to join Army medical college for MBBS/BDS courses through Medical Cadet / NUMS Cadet / Paying Cadet?
If yes then read this article completely. A step by step guide about Pakistan Army Medical College Admission. After reading this helping article you will be able to start your journey as an Army Candidate for MBBS/BDS courses in Army medical college. Army medical college ranks among the top medical colleges in Pakistan.
AMC Admission 2021 Procedure |Registration & Selection|
Registration for MBBS/BDS courses is divided into three categories. The first category only male candidates can apply for Admissions in Army medical colleges. In the 2nd and 3rd, both girls and boys (Civilian & Army brat) can Apply for AMC Entry Test. Here is all 3 best ways to get Army Medical College Admission 2021.
A candidate can join Pakistan Army Medical College for MBBS/BDS courses by registration through these courses. For registration and selection procedure of the AMC entry test scroll down.
Army Medical Cadet

 (Male)

NUMS Cadet

 (Male/Female)

Paying Cadet

 (Male/Female)
Mostly candidates join the Army Medical cadet course to get admission in army medical college. As cadet will join PAK Army as Captain Doctor after completion of their MBBS/BDS course.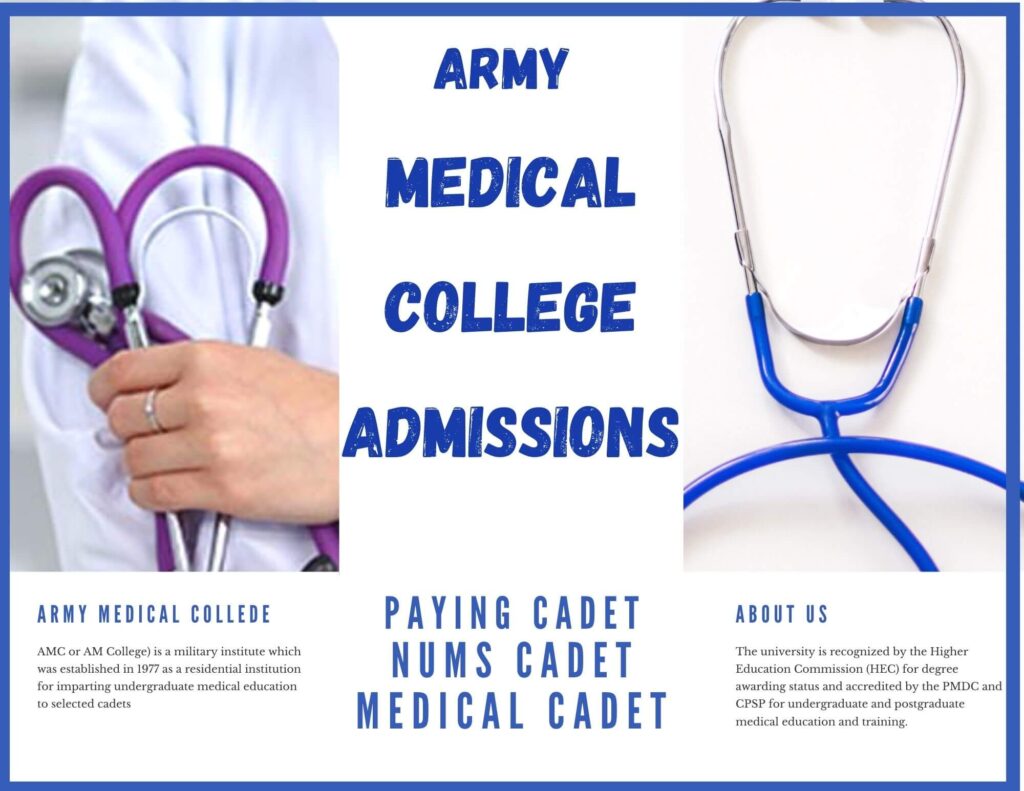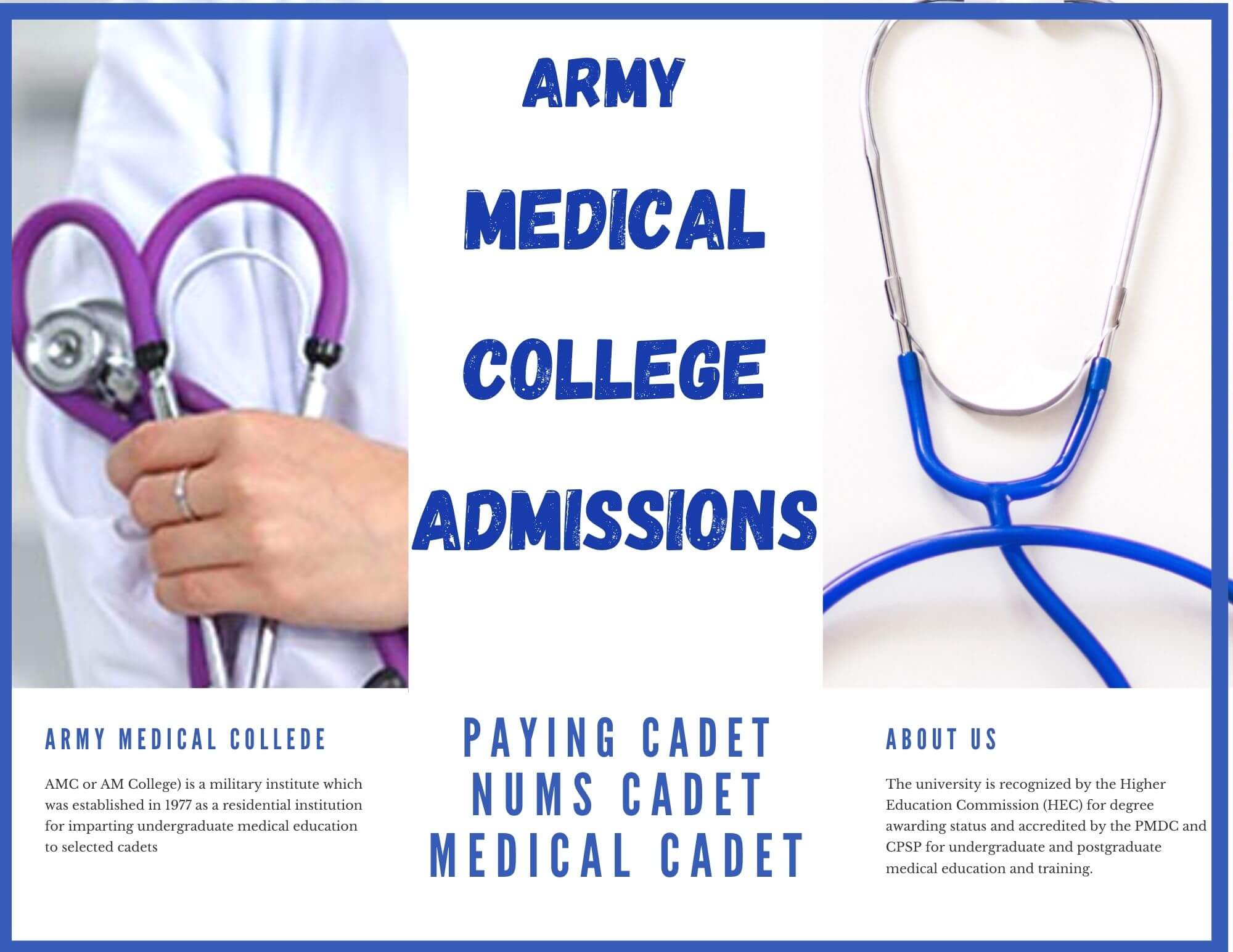 Army Medical College Admission Date: 
AMC Admission Date 2021 for 1st Years MBBS/BDS admission is December 2021 |confirm date will be announced after NATIONAL MDCAT and NUMS MDCAT Entry Test 2021 |
1 Pakistan Army Medical Cadet Course Joining Procedure (Army MCC)
If you want to join Army Medical Colleges through Medical Cadet Course here is the detailed procedure. Follow step by step procedure to register for MCC in Pakistan Army.
A candidate can join Army Medical Cadet Course by given bellow procedure. Both Male Candidates (civilian and Armed Forces family) can apply for Medical cadet Course.
1st Step:


Register For Medical Cadet Course
2nd Step:
Clear Initial Written/Intelligence Test at your nearest Army Selection Centre
3rd Step:
Short Interview at Army GHQ
4th Step:
Appear in both or one of them (NUMS Test/ National MDCAT Test)
5th Step:
Submit your admission latter/ Prospects in your selected Universities along with NUMS Test/NMDCAT Test result card
6th Step: 
Final Merit List of selected Candidates will upload here. They will also received recommendation call latter and SMS/Mail notification for further procedure.
The joining/Selection procedure is not as difficult as looks like. A candidate can easily join Pakistan Army through Medical Cadet Course if he have the basic knowledge and guideline about AMC Admission and selection procedure. Pak Amy Guide Team is here to HELP YOU for selection and Test preparation.
For more selection and joining guideline including Army Initial Medical Cadet Test pattern, Syllabus, paper Sample  visit ARMY MEDICAL CADET COURSE JOINING PROCEDURE GUIDE by visiting this article you can read all basic guideline to join Army Medical Cadet Course and you can also download syllabus and sample papers for AMC Test.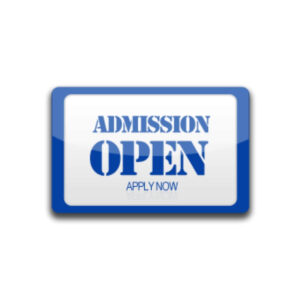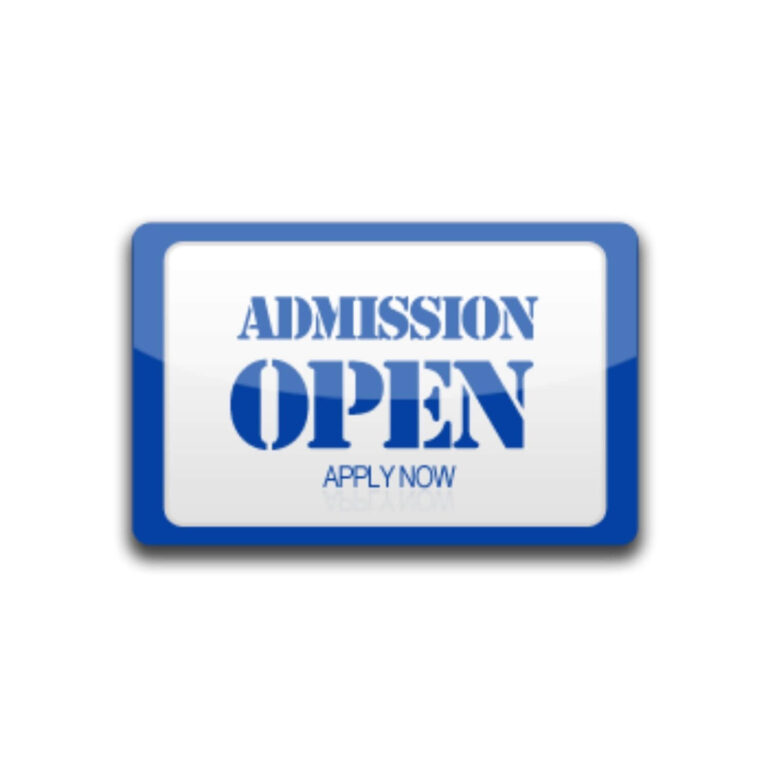 By visiting above linked article You can get information about
AMC Test Syllabus 2021

Army Medical College AMC Admission Procedure

Medical Cadet Test Guide

Army Medical College Merit List

MCC Test Pattern

Army Medical colleges list
2 NUMS Cadet Joining & Selection Procedure
2nd way to join Army Medical college MBBS/BDS program is NUMS Cadet Course. NUMS registration opens once in a year mostly admission start in July/August. NUMS MBBS/BDS Merit lists displayed in October/November. Classes for NUMS MBBS/BDS start in last week of  December. But Now a days NUMS registration, NUMS Entry Test, NUMS merit list, & NUMS MBBS/BDS Classis may delay due to pandemic situation of COVID-19.
Here Is the NUMS Admission 20201 complete joining procedure. Follow step by step guide for NUMS Admission 2021.
1st Step:
Make Online Registration For NUMS Entry Test
2nd Step:
Get admission form along with prospect from AMC universities in which a candidate want to apply for MBBS/BDS Admission and submit form.
3rd Step:
Start preparation for NUMS MDCAT Test according to NUMS Syllabus 2020 & Appear in NUMS MDCAT Test On dated according to your NUMS Roll Slip.
4th Step:
Check NUMS MDCAT Result and calculate merit
5th Step:
Check NUMS Merit List of all Army Medical colleges.
For more Information and guide visit | NUMS MDCAT Admission 2021 step by Step Guide |
Note:- Both civilian and Armed forces family candidate can apply for NUMS Cadet Course and can apply online for NUMS MDCAT Registration Online. in this article you will get all information about
NUMS MDCAT Test Registration

Fee Structure for NUMS Test

Download NUMS MDCAT Syllabus 2021

NUMS MDCAT past papers

Download NUMS Roll Slip

AMC Merit List of all colleges

Army Medical College Rawalpindi Merit list
NUMS Entry Test 2021 Preparation Notes and Free Online Lecture according to NUMS Syllabus 2021 also available. To Get Admission in NUMS Preparation Course 2021 replay in comment section with your name and WhatsApp number.
3 Paying Cadet Course Joining and Selection procedure
Paying Cadet (PC) seats dedicated to only army brats. Civilian can't apply for Paying Cadet Course. Male/Female can apply for Paying cadet seats. paying candidates have to deposit full fee half fee is refundable.
Following with Armed forces background can apply for Paying cadet Course
Army
Air Fores
Navy
Defence Forces/Atomic Energy  Commission
How to Apply for Paying Cadet Course? for complete procedure visit Paying Cadet Admission Guide and follow complete procedure as given in article
In this article you will read about,

How to get paying cadet Form

Paying Cadet Form Filling & Submission

Registration for NUMS Test

Paying Cadet Final Joining Procedure and Merit list
To get Succeeded in Paying Cadet/NUMS Cadet/Medical Cadet admission. Start Preparation from PAK Army Guide Notes for NUMS Entry. As our NUMS MDCAT BOOK edition 2020 contains more than 180+ out of 200 MCQs of NUMS Entry Test 2020. New edition 2021 of PAK Army Guide NUMS MDCAT Book is especially designed according to NUMS Syllabus 2020 and Compiled by our Subjects Specialists and NUMS Toppers from 2016-2020.
Team of PAK Army Guide has also designed special Notes for Medical Cadet Students for Initial Test and Interview. You can order online for Army Medical College Test Preparation Book. Candidates can Also Prepare these Notes for All kind of PAK Army Tests, Including PMA Long Course 2021,  AFNS Registration 2021.