Apply for PAK Army Medical Cadet Course 2022 to do MBBS/BDS degree course at Army Medical Colleges. On completion of MBBS/BDS degree at AM college and Basic military training at PMA Kakul cadets will be awarded the commission in the PAK Army as Captain.
Complete procedure about how to apply for PAK Army Medical Cadets? the registration process with the initial test guideline is described below in detail. Read complete for Army Medical cadet Course 2022 registration and Selection Procedure.
Join PAK Army Through Army Medical Cadet Course 2022
Pakistan Army announced the Joining dates schedule for MBBS/BDS Courses. To register for PAK Army Medical Cadets There are two ways of registration. Register Online or Register by visiting your nearest AS&RCs.
Registration Start Date: 08 June 2022 to 15 July 2022

(confirmed)

Preliminary Test Date:

19 July 2022
Links For AMC Registration and Roll No Slip Download.
---
For Online Registration Services
Charges: 200/apply
---
AMC Test Sample Paper

Read about MC/NUMS/PC Tests and their selection procedure
Complete guide about Registration, Selection, and Syllabus of
Before registration Check Eligibility criteria and registration process with a complete guide.

Entry Test for Army Medical college for MBBS and BDS eligibility criteria, joining procedure initial test preparation guideline and details about Intelligence Test, Personality Profile, and interviews of successful candidates held by the GHQ selection board.
Recent Updates:- PAK Army Graduate Course
Follow these simple steps to become Army Medical cadets
Registration: Check the below-mentioned eligibility criteria and register for Army Medical College MBBS of BDS Course
Academic Written Test: Written-test based on multiple-choice questions from English, Physics,  Chemistry, and Biology at AS&RCs
Intelligence Test: Verbal and non-verbal Intelligence test at AS&RCs
Personality Profile & Interviews: Personality profiles and interviews of successful candidates will be held by the GHQ selection board
Final Merit List: Successful candidates will be selected for MBBS/BDS in AMC final merit list

AMC BDS Merit List:

Army Medical college merit list of successful candidates for BDS course
AMC MBBS Merit list: Army Medical college  merit list of successful candidates for MBBS course
Army Medical College AMC Entry Test 1st Final Merit List & AMC Entry Test 2nd Final Merit List For MBBS/BDS will be updated here stay connected with Join PAK Army
---
Buy AMC Medical Cadets Test preparation book for 100% preparation.
On Successful Selection after completion of MBBS or BDS Course 22 Weeks basic military training period at PMA Kakul.
Enroll Now:- AFNS Online Registration 2022
Eligibility Criteria For Army Medical College MBBS/BDS Registration
Before applying once check eligibility criteria for AMC Entry 2022. A candidate has to fulfill the below mentioned criteria. Army Medical College MBBS/BDS course eligibility criteria are
Gender: Male
Marital Status: Single (Unmarried)
Age: 17 to 21 years
Physical Standards:

Height: 5′ . 4″
Weight: As per Body Mass Index
Vision Standards: Distance Vision with glasses 6/9,6/12

Physical Test: Visit for Pak Army Physical Test complete guideline
Qualification:

FSc (Pre-Medical) with

70% marks

Senior Cambridge / GCEO level pass (Compulsory) in five subjects plus A level passed in Biology, Physics, and Chemistry with minimum grade C/6.
FSc (Pre-Medical) with 65% marks for domicile holders from below mentioned specified areas.
PMA LONG Course Relaxation of Marks Areas
| Balolchistan | FATA | Gilgit-Baltistan |
| --- | --- | --- |
| District Kohistan | Chitral | Dir |
| Tehsil Bala Kot (Kaghan, Naran) of District Mansehra in KPK | District Neelum Azad Jammu Kashrnir | Tharparker and Tehsil Umer Kot in Sind |
| District Rajanpur | Drawar Fort | Area of Cholistan Desert |
| Salamsar | Mojgarh | Dingarh of Punjab |
Note:
For 65% marks, domicile holder candidates must have been actually studying in the same areas as mentioned in the above table

Join Army Medical College AMC Entry Test 2022
Through Army Medical Cadet Course 2022, Army Medical College offers the following Courses
MBBS Course (5 years at AM College/CMH Lahore Medical College)

BDS (4 years at Am College)
Before applying for admission in these courses candidates make sure that they fulfill the eligibility criteria of Army Medical College AMC Entry Test 2022. Successful registration starts preparation to get the batter result. The following are the main points for AMC Test preparations.
Army Medical College Test Pattern

Pakistan Army Medical College AMC Test Syllabus

Intelligence Test Of Army Medical College AMC

Personality Profile (Personality Test)
Interviews preparation
---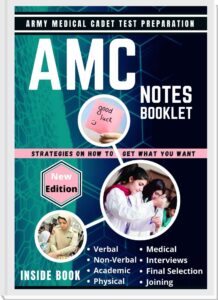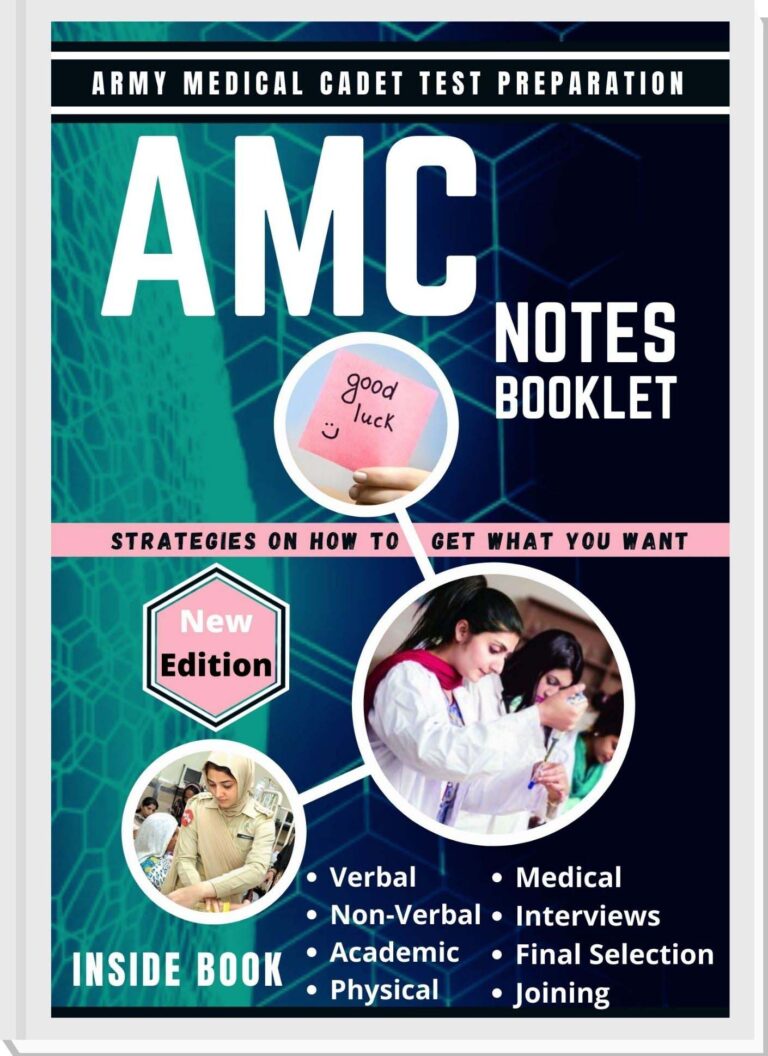 ---
Related:- PMA Long Course Registration 2022
Ineligibility Criteria For Army Medical College
Following Candidates will not be able to apply for Medical cadets Course
A candidate who declared permanently unfit by appeal medical board.
withdraw from the Academy/College/ Training institution from any Armed Forces
Declared medically unfit (candidate unfit due to hepatitis B & C)
Army Medical Cadets Selection And Rank In PAK Army
Finally, selected candidates will be required to sign a bond for 13 years to serve the army. On completion of the MBBS/BDS course and basic military training at PMA, Kakul cadets will be awarded the commission in the Pakistan Army as Captain.
Basic Information for Army Medical College Test is given above if you still have required some relevant information feel free to leave your query in the comment section. Thanks for visiting the Pakistan Army guideline platform.
PAK Army Guide books Stock