Do you want to join Pakistan Army as a Medical cadet in Army administrated Medical Colleges? If yes you are at the right place here is the complete guide for Army Medical Cadet Test. Read the complete article as this article is a complete guideline along with Medical Cadet Test preparation Notes.
You can also Download the Army Medical Cadet Syllabus PDF file and MC Test verbal/non-verbal as well as academic portion PDF Notes. These notes are important for Medical cadet test preparation.
Army Medical Cadet Test for MBBS / BDS Course
Registration for Medical cadets courses starts now. A candidate can apply Online during the mentioned date for MBBS/BDS courses in 2023. For the successful registration process please read the Registration Note given below.
for online registration click here
Army Medical Cadets Registration Date:

08 June 2023 To 15 July 2023

Army Medical Cadets Online Test Date:

AMC Test start on 19 July 2023 onward
---
For Online Registration Services
Charges: 200/Apply
---
Note: exact date of the exam will be printed on the candidate's exam slip.
Army Medical Colleges Admissions Open
MBBS Course: 5 years study period at any Army Medical College.
BDS Course: 4 years of study only at AM College Rawalpindi.
Check Eligibility Conditions Before Registration
Age: 17-22 years
Gender: Male citizen
Marital Status: Single/Unmarried
Nationality: All Pakistani Citizens & from A.J Kashmir/Gilgit Baltistan
Minimum Height: 5"- 4" (162.5 cm)
Weight: As per Body Mass Index
Education: Fsc (Pre-Medical)/"A" Level minimum with 70% marks
PAK Army Open Courses: PAK Army TCC Registration
Note: Candidates who have passed FSc 1st part with a minimum of 70% marks can apply on HOPE Certificate. Hope Certificate attested from the principal of your intermediate college.
[pdf-embedder url="https://www.pakarmyguide.com/wp-content/uploads/2021/07/AMC-Test-Sample-Paper.pdf" title="AMC Test Sample Paper"]
For More Details about Eligibility Conditions visit
AMC Entry Test Registration 2022
AMC Test Preparation Guide
Are you getting an important test that you really want to attempt? Do you usually want to improve your grades and numbers? There are many tricks and practices that can significantly improve your chances of scoring more in the exam. This AMC book will help you study, analyze and solve exam questions, so must prepare AMC BOOK according to the initial test pattern of the Pakistan Army.
Every student hopes to score well while preparing for exams. During this, students often find ways to spend their time studying and learning effectively. But, it is not always easy to find the correct answer to "how to score well in the Army medical cadet test exam".
There are some tips and tricks that can help students study effectively and score well in the AMC exam, here is an article that will give you those tips and tricks.
Best Study Strategy to Score Well in Exams
10 Effective Ways to Score Good Marks in Exams
Effective Time Management
Create a study plan
Follow a proper diet
Challenge yourself
Maintain your body clock
Practice sample papers (given in Army Medical College Book)
Find your weak points
Understand concepts
Make your study notes
Select Group Study
Teach others what you've learned
Minimize your smartphone usage
Constantly revise
Don't ignore English
Best Preparation Book For Army Medical Cadet Test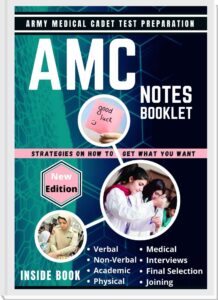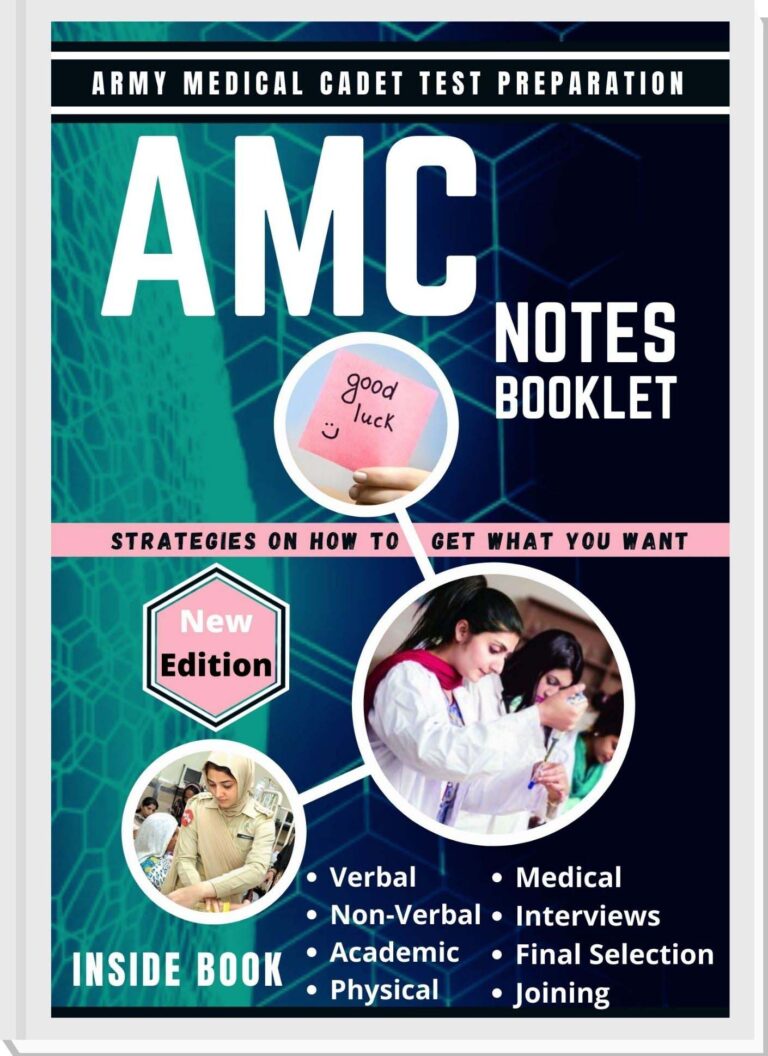 Related:- NUMS Past Paper 2022
Army MC course Preliminary Selection Procedure
after a successful registration process, the Test date and time will be intimated on the Registration slip of each candidate through the Internet. The candidate has to report at mentioned AS&Rcs on a given date and time for a preliminary test.
The candidate will also bring along original documents & prospectus fees (fee mentioned on a roll no slip) on the day of the test.
The candidate must have basic knowledge about computer work as registration and Army Medical Cadet Test will conduct online on the computer.
Important Points about MC Registration
A candidate who applies for the Medical Cadet course has to mention the Medical College name on the top of the registration form. Medical colleges are,

Army Medical College Rawalpindi

CMH Lahore Medical College

Quetta Institute of Medical Sciences

CMH Multan Medical College

Karachi Institute of Medical Sciences

During registration be careful in the choice of medical colleges.
The candidate selected for MBBS in any Medical college if not appear will be ineligible
A candidate selected through merit for an institute shall not be changed
Related:- NUMS Result 2023
Girls Can Join PAK Army through:-
Selection Procedure of Army Medical Cadet Course
medical cadet course complete selection procedure is here. follow the given below steps.
Registration:
on successful registration, a registration slip is generated by Army for the initial test.
Initial Test:
on the given date and time report at AS&RCs along with all original documents and prospectus fee. Online Tests will be conducted on computers from the given syllabus.
Initial Medical & Physical Test:
The medical test of those candidates who clear the initial test may be taken on the initial test day or within the next two working days. Successful candidates will call for a physical Test
Initial Interview:
Initial interview at AS&RCs
Form Filling:
Shortlisted Candidates will fill ISSB form and send it to GHQ.
Personality Test & Interviews:
Shortlisted candidates will receive a call-up later from GHQ for Personality Test, Intelligence Test, and Interviews at Army Medical College Rawalpindi. It's usually a two-day test procedure.

Intelligence and personality Tests

Deputy & Psychiatrists Interviews




For details about personality Tests and interviews scroll down

Final Medical:
Recommended Candidate will receive final medical letter & candidates have options to select nearest CMHs for final medical examination.
Army Medical College Final Merit List:
The final merit list is based on the overall progress in the Medical Cadet test and your performance in Matric, FSc, and Entry.
Medical Cadet Personality Test and Interviews
Personality Tests and interviews were taken at Army Medical College Rawalpindi. It's a 2-day testing procedure.
Personality Test: start with bio data form filling & test consists of writing about

Word Association Test
Sentence Completion Test
Half-story writing Test
Picture Story writing Test
Write about your good and bad qualities
write about one of the horrible /sad/happy/unforgettable incidents of your life.

Interviews:
two interviews were taken at Army medical college Rawalpindi.
Initial Written/ Intelligence Test
The written test portion of the Army Medical Cadet Course is based on MCQs and consists of three types of questions. Here is the Army Medical Cadet Test Syllabus.
Verbal Intelligence Test: 90 MCQs in 30 minutes
Non-Verbal Intelligence Test: 90 MCQs in 40 minutes
Academic Test: 50 MCQs in 25 minutes
Academic Portion of Army Medical College Test
The academic portion consists of multiple-choice questions from the given below subjects.
Biology 35%
English 25%
Physics 20%
Chemistry 20%
For best preparation get Army Medical College Preparation Book to get high scoring in initial test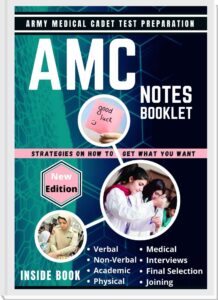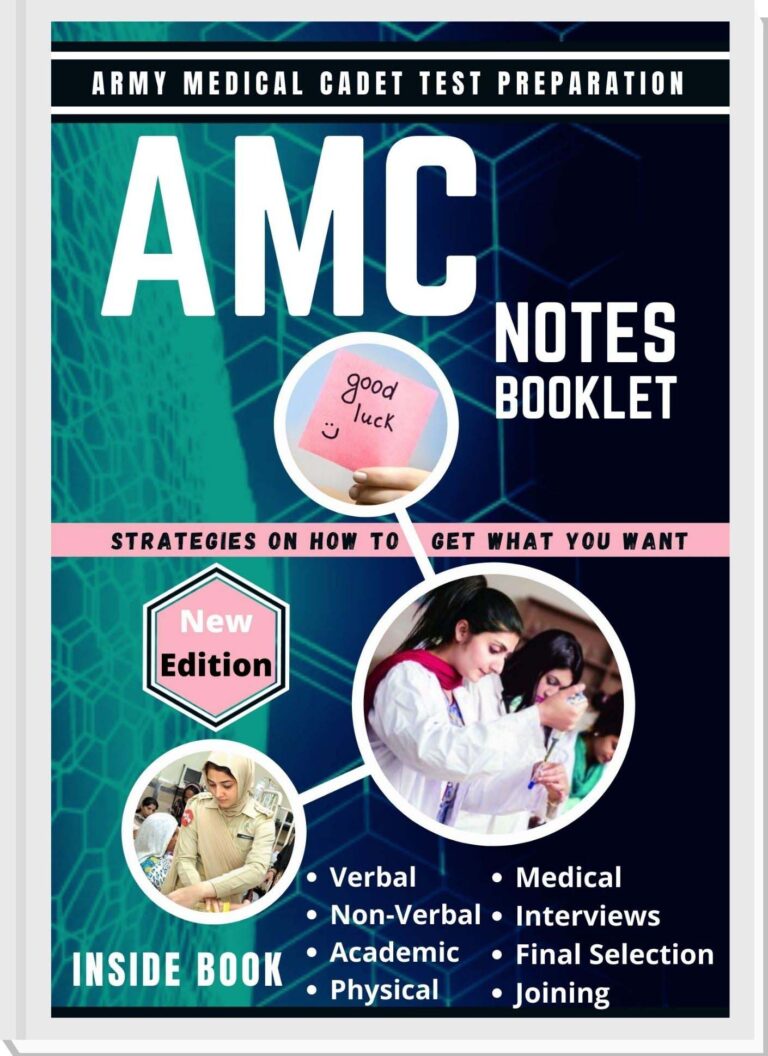 ---
Related:- NUMS MDCAT Registration
Army Physical Test
candidates will have to qualify for given below physical test
1.6 Km run:

8 Minutes.

Pull-Ups:

03 repetitions (over-grip) in 2 Minutes.

Push-Ups:

15 repetitions in 2 Minutes.

Crunches:

20 repetitions in 2 Minutes.
Ditch crossing: 7".4" x 7".4" with a depth of 4 feet.
A Candidate has to qualify for the Army Medical Cadet Test.
For any questions about the Army Medical Cadet Test please leave a comment our team will further guide you. To get the latest updates join our Facebook page PAK Army Preparation Form.
Read more about ⇒ Army Medical College Admission 2023