Join Pakistan Navy as PN Cadet after Intermediate with 60% marks in subjects (Phy, Math, Chem/Computer). Students who want to join PAK Navy as PN Cadet to become an officer in Pakistan Navy can follow this procedure with step by step guide.
Training Scheme of PN cadets is after selection as Cadet, Pakistan Naval Academy grooming them Professionally, Morally, Educationally, Mentally and Physically. These qualities developed in them to be an Officer with the highest ideals of honesty and courage.
How To Join Pakistan Navy As PN Cadet
After A training of one and a half year, cadets pass out as midshipmen from Pakistan Navy Academy  PNA  and join Ships for a period of six months for practical training. In this training, they experience the difference in life at sea.  They have to work in different fields in these 06 months and after this training period of six months the midshipmen are commissioned as sub-lieutenants
They have to choose fields as mentioned bellow
Operations Branch Officers:
For Operations Branch Officers Sub-lieutenants join Naval Engineering College for a two and a half year engineering program in electronics from NUST.
After engineering from NUST Operations Branch Officers undergo professional courses from various Pakistan Navy Academies which includes
Surface Warfare
Electronic Warfare
Communications
Navigation & Operations
Under Water Warfare
Related:- Join PAK Navy After Matric
NBCD:
For further training, sub-lieutenants join this educational and professional training course. After this course officers on ships to obtained watch-keeping certificates.
Mechanical Branch Officers:
For Mechanical Branch officers, sub-lieutenants join PAK Navy Engineering College in the discipline of Mechanical Engineering for a period of two and a half years BE (Mechanical) Degree from NUST.
Logistic Branch Officers:
sub-lieutenants join the School of  Logistic & management. After two years of training, these officers earned a degree BBA (Hons) and joins ships for certification for their competency.
Related:- Join PAF After Matric
PN Cadet Registration 2022
To join PAK Navy as PN Cadet Course, Registration opens twice in a year in November-December and March-April every year A candidate can check recent Open Programs of PAK Navy by visiting joinpaknavy.gov.pk Here is the PN Cadet Registration Date 20202
PN Cadet Registration 2022 Start Date:

06 June 2022

Navy PN Cadet Registration 2022 End Date:

13 June 2022
PN Cadets Eligibility Conditions
Eligibility Conditions to Join PAK Navy as PN Cadet are as follow,
Male Citizens of Pakistan Can Apply for PN Cadet Course
Age of Civilian Candidates should be 16 1/2 -21 years (till PN Cadet Joining date)
Service Candidates Age should be 17-23 years (till PN Cadet Joining date)
Unmarried Candidates can apply and also married service candidates can apply for PN Cadet
Height Should be 162.5 (5′ 4″) minimum
Check Also:- PAF AD Course 2022
Qualification Required For PN Cadet Registration
For Registration, the Candidate must have  Matric/O Level and Higher Secondary School Certification HSSC/A Level  with minimum 60% marks with any of one group subjects from these
Physics, Maths, Chemistry
Physics, Maths, Computer sciences
Physics, Maths, Statistics
Who Are Not Eligible For PN Cadet Registration
Candidates are not eligible if,
Who twice rejected by ISSB.
Candidates Who Twice screened out at ISSB.
If a Candidate permanently declared UNFIT by Appeal Medical Board.
ISSB Not recommended candidates. Who tested within four months gap of the previous appearance.
The candidate who Withdrawn from any Academy/Training institution at any ground.
Who Withdrawn from any one of Armed Forces college/institution on disciplinary grounds.
The candidate who once Dismissed, removed,  debarred from Govt Services also including Armed Forces.

The candidate who Married to Foreign National.
Related:- NUMS Past Paper Book
Online Registration Procedure
Registration To Join PAK Navy as PN Cadet opens twice a year, Candidates can apply for online registration at  joinpaknavy.gov.pk by Click Here. 
Candidates can contact with PAK Army GUIDE Team for Registration and Guideline through WhatsApp 03106867602. or By clicking on bellow WhatsApp chat button.


For more details and guide about PAK Navy Matric base jobs and Initial Test Syllabus & PAK Navy Test Sample including Initial Test Academic notes  WhatsApp Now
PN Cadet Selection And Joining Procedure
The candidate has to pass through the following stages
Entrance Test

Intelligence Test (Verbal and Non-Verbal Intelligence Test)
Academic  (English, Maths, Physics, & General Knowledge)

Initial Medical
Interview
ISSB 5 Days Test (at any ISSB Centre from Kohat/Malir/Quetta/Gujranwala)
Final Medical
Final Interview 
Final Merit List by NHQ
Related:- NUMS Entry Test
Documents Required On The Day Of Initial Test
Following documents are required at Navy Selection Centers on the initial Test Day.
Original as well as  attested photocopies of Matric & F.Sc certificates and Detailed mark sheets (DMC/Result Card)
2x copies of Matric and F.Sc marks Sheet (DMC/Result Card)
Three Passport size Photographs of candidates (Clear face)
National Identity Card or Registration Form 'B' (if under 18 years)
Rs. 300  Prospectus fee (Not Refundable)
How To Prepare For PN Cadet Initial  Test and ISSB Test
Mostly Candidates Have some questions about PN Cadet Initial Test as well as ISSB Test, They have no idea how they can pass these tests to Join PAK Navy as PN Cadet Course. Here is the Guide about NAVY ISSB and PN Cadet Initial Test Preparation.
The first stage of the entrance test is most important which is PN Cadet initial test preparation. Candidates can start their preparation in these two ways:
BY Self Study
By Joining A Forces Academy
Related:- NUMS Syllabus 2022
PN Cadet Initial Test Preparation By Self Study
Students Who Wish to join PAK Navy as PN Cadet Course as well as others courses including PAK Army, and PAF can start their Preparation By themselves. To start preparation Follows these steps.
BUY Study Notes or PAK Navy Initial Test Guide Book
Watch Our Informational Videos about PN Cadet Initial Test Guide
Make a diet plan and start workout to become fit as an officer
Remain in touch with our team by further Guide about PN Cadet Initial Test Preparation Guide. WhatsApp 0310/6867602
After Clear initial Test Start Preparation For Initial Interview
Join Our Online ISSB Preparation Course (Free as well as Paid with extra time)
Contact Us PAK Army Guide 0310-6867602
You Can Buy Our PAK Army Guide Study Notes For 100% Initial Test Preparation specially designed for PAK Armed Forces (ARMY, NAVY, PAF) Initial Test Preparation with complete guide about registration and joining procedure
PAK NAVY PN Cadet Test Study Notes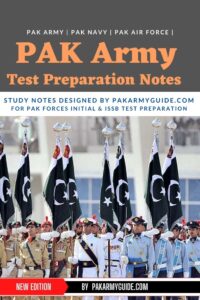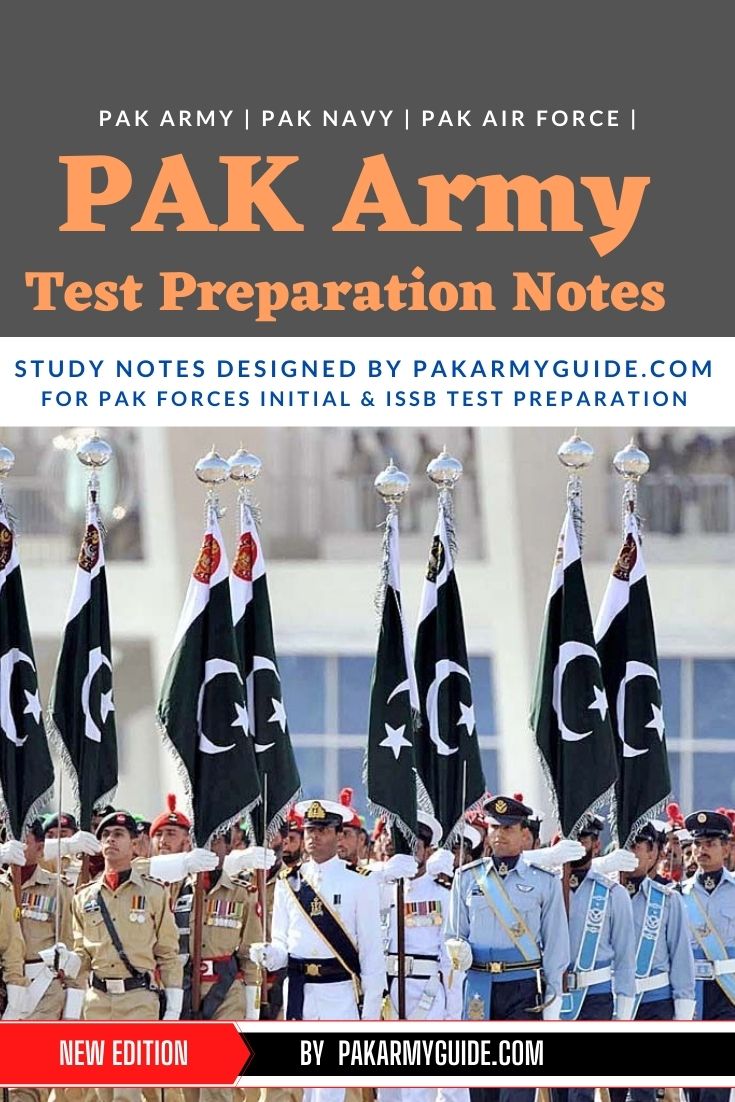 BOOKS For PAK Navy Tests Preparation
PAK Navy Test preparation with complete joining procedure guideline Books available you can place an online order for these Books.
---
PAK NAVY Test Preparation Book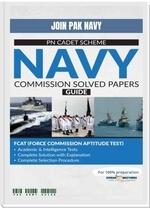 ---
PAK NAVY Test Guide Book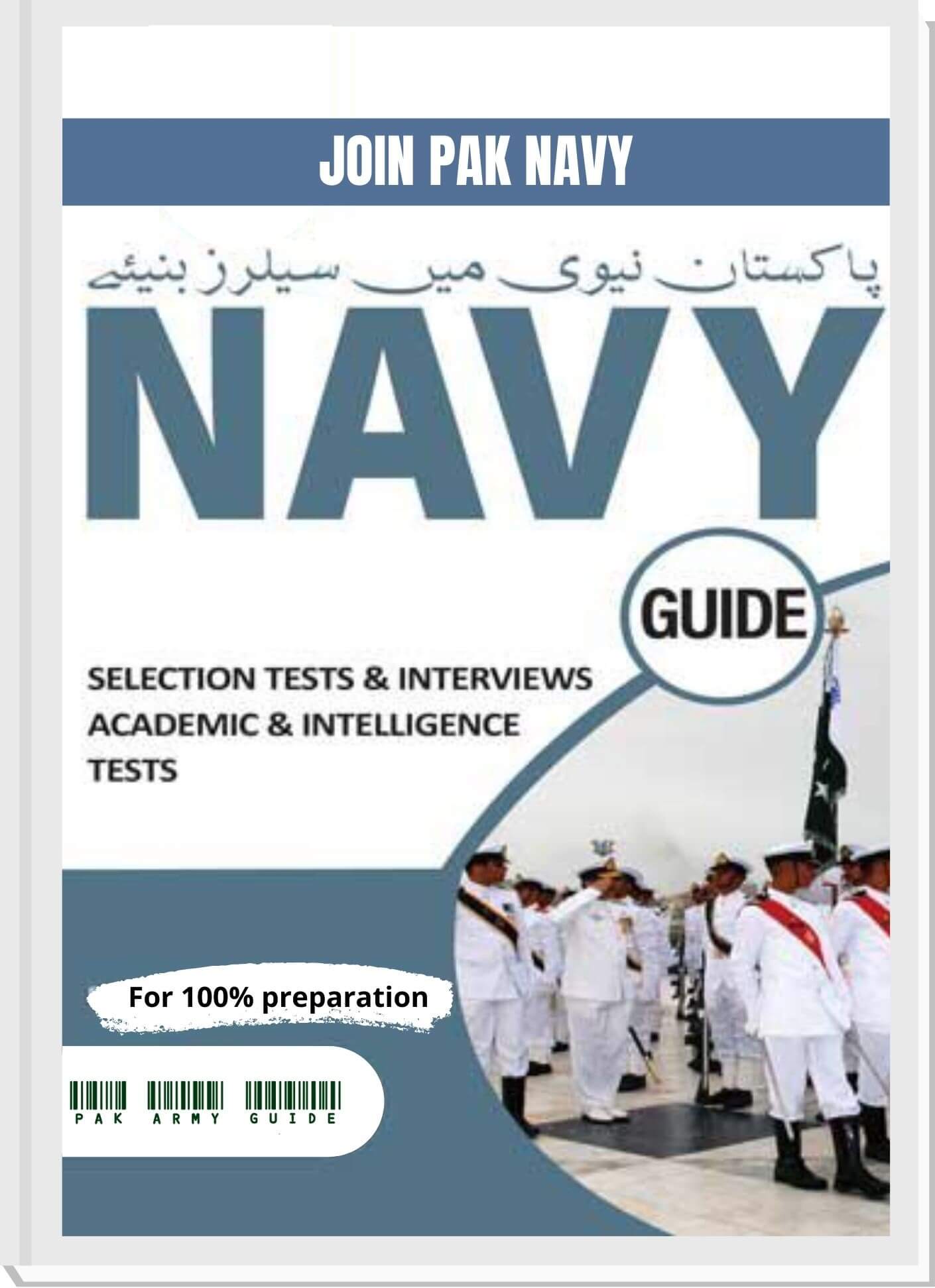 PN Cadet Course By Joining Forces Academy
If a candidate wants to prepare JOIN PAK NAVY PN AS CADET initial test by joining Forces Academy coaching classes can join Any academy for preparation of the Initial Test.
PAK Army Guide Online Test Preparation Platform
Niazi Force Academy
Noor Force Academy
Pakistan Force Academy
Many Forces Academies are available city-wise, where a candidate can start preparation for Initial Test of PAK Navy, Army, And Air Force. If you want to join our PAK Army Guide Online Academy for Initial Test preparation WhatsApp now 0310-6867602
Related Commissioned Jobs in PAK Armed Forces
Share this informative article with friends and family. Especially with those who want to Join PAK Navy as PN Cadet Course 2022.